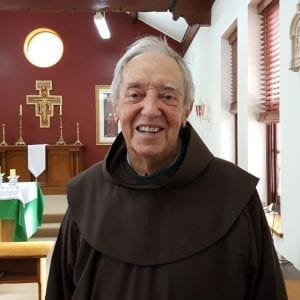 Dear Members,
Pax et bonum.
Cormac Nagle ofm, founding member of our Society and honorary life member, died on the morning of  Tuesday 4 May 2021, at his residence in Box Hill, Melbourne, Victoria.
Cormac was born on 4 December 1932 in Brisbane and was baptised Malcom.  He entered the novitiate of the Franciscan friars on 17 February 1950, and on 22 February 1954 made his solemn profession as a friar, and was ordained a friar priest in Brisbane on 29 June 1957.  After completing his doctorate in canon law in Rome, Cormac completed a post-doctoral fellowship in moral theology at the Catholic University of America, Washington, USA.  On returning to Australia, Cormac lectured in canon law and moral theology, and was ministering as an ethicist in Catholic healthcare facilities, and advisor to several bishops and others, especially in the areas of canon law and ethics.  He was a formator and was elected to the Provincial Council of the friars.  Then, at the age of 44, he was elected Provincial Minister, and then elected to the General Council of the Order, being based in Rome.
In 2015, Cormac was awarded Catholic Heath Australia's highest honour, the Maria Cunningham Lifetime Contribution Award 2015, at the annual Catholic Health Australia Awards held at Parliament House, Canberra.  "A very humble, yet highly accomplished individual, Fr Cormac Nagle's qualifications are not only impressive, but have seen him travel the globe, giving him a truly international perspective. Fr Cormac also holds a degree in Sabbatical Studies in Bioethics, Graduate Theological Union, Berkeley, California, USA" [Catholic Health Australia, Media Release, 2 September 2015].
Cormac's Funeral will be held at St Paschal Chapel, 90 Albion Road, Box Hill at 10:30am on Monday, 10 May 2021.  Cormac will be buried in the Friars Cemetery in the grounds of St Paschal Chapel.  Tony Kerin, past-president of our Society, and parish priest of the Parish of Box Hill, will be representing our Society at Cormac's funeral.  Members are welcome to attend.
Thank you to those who have already replied with prayers and sympathy – some remembrances bear repeating:  "He was a wonderful person who applied the law in a most pastoral way.  He worked with integrity and was always pleasant and helpful. … Thanksgiving for a life well lived with compassion for others. … A kind gentle unassuming person who shared his deep learning and natural compassion without fuss or pretension."
Our Society has lost one of its greats.  May Cormac rest in God's eternal peace.
Ken Cafe ofm